Generally recognised as the most dangerous animal in the world, based on the number of deaths that are attributed to the diseases they carry.
Mosquitoes are common insects from the family Culicidae (Order Diptera or 'true flies') which have mouthparts adapted for piercing and sucking. There are more than 3000 species of mosquito in the world.
Mosquitoes undergo a complete metamorphosis, meaning that they have a four-stage lifecycle which includes eggs, larvae, pupae and adults. Adults lay eggs on or near standing water and the larvae complete their development in the aquatic environment. Adults that emerge usually remain within a one mile radius of this breeding site. The lifespan of a female mosquito, from egg through adult, varies according to ambient temperature and species, but can be up to about 100 days.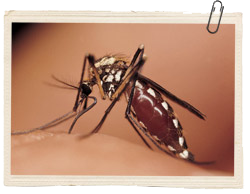 The age of a mosquito is an important factor in its ability to transmit disease. (It is only the older female mosquitoes which are able to transmit malaria, for example).
The three most important groups of mosquitoes which impact man are from the genera Anopheles, Aedes and Culex. These three groups are collectively responsible for the transmission of malaria, dengue, Zika, filariasis, chikungunya, Japanese encephalitis and many other viral diseases.
Different species of mosquito can have different behaviours in terms of biting preferences and resting sites (e.g. indoors or outdoors) and host preferences (e.g. humans, animals). These factors are important in the choice of intervention method for disease vectors. For example, if the principal vector species within a given area is predominantly indoor resting then this suggests that indoor residual spraying could be an effective intervention technique. If a species feeds and rests indoors late at night then the use of insecticide-treated bed nets might be appropriate. The different behaviours between different species is well illustrated in the table below.
| | | | | | | |
| --- | --- | --- | --- | --- | --- | --- |
| Species | Region found | Biting site | Resting site | Host preference | Peak biting time | Breeding sites |
| Anopheles gambiae | Africa | Indoors | Mostly indoors | Human | Late | Sunlit shallow temporary water bodies, rice fields |
| Anopheles arabiensis | Africa | Indoors and outdoors | Indoors and outdoors | Human and animal | Late | Temporary water bodies, rice fields |
| Anopheles culicifacies | India/Asia | Indoors and outdoors | Indoors | Mainly animal | 21.00 to 23.00 | Various clean and polluted water bodies |
| Anopheles dirus | Asia | Indoors and outdoors | Outdoors | Human | Late | Small shaded water bodies in forested areas |
| Anopheles sundaicus | South East Asia | Indoors and outdoors | Indoors and outdoors | Human and animal | All night | Brackish water in coastal areas |
| Anopheles albimanus | Central America | Outdoors | Indoors and outdoors | Human and animal | Evening | Open, sunlit clear water |
| Anopheles stephensi | Asia and middle East | Indoors and outdoors | Indoors | Animal | Before midnight | Gutters, wells, rainwater tanks, grassy pools |
Learn more
// European CDC
// Nature publication on spread of Aedes aegypty and Aedes albopictus