Commitment to Public Health
The fight against vector borne diseases, which affect more than half the world's population, is at the core of our effort to innovate new solutions.
Bayer maintains a focus on vector control as a core business with dedicated resources in product development, regulatory, and customer relationships.
Community awareness programs such as the Mosquito Learning Lab and indoor residual spraying training programs are dedicated to ensuring that everyone has the knowledge and education to be part of the solution.
Bayer is a partner in science and advocacy with leading global organizations to help keep education and advocacy on the front line of the fight against vector borne disease.
To learn more about public health, we invite you to read our public health magazine, which examines the causes and stories that are at the heart of vector-borne disease.
How to protect yourself against mosquito bites
To reduce your risk of catching mosquito-borne diseases, you can take measures around your home to both prevent bites as well as reduce the number of mosquitoes present. After all, mosquitos can be a serious threat to your health. Follow the instructions in the checklist below to protect yourself in regions where mosquito-borne diseases are rife.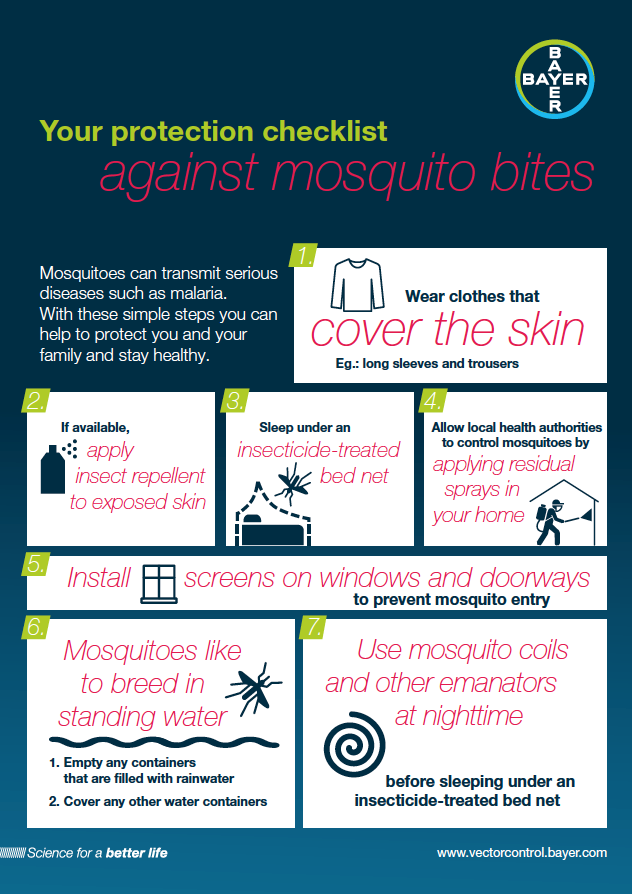 This checklist is available for download here. We are also happy to share the file in a format suitable for local adaptation to be used as part of building awareness around mosquito-borne disease prevention.